Yes, it's a hobby.
Although I like to play with colors, I like to draw very much. Precision, detail and contrast - almost for free. Endless hatching can also be very meditative and rewarding.
I love it when there is either a strong contrast or when the whole thing is light and completely balanced.
Only practice makes perfect.
Yes, a little talent helps to get started, but most of all you need a lot of practice in drawing. Anyone can draw (anddoes it as a child), but most people have the impression that they are not capable of doing it - which is simply not true.
Like everything else, it takes a lot of motivation and a little bit of sugar (= positive feedback) to keep going. I get my motivation watching stuff from people like Paul Heaston, Bill Sienkiewics or Adolph Menzel.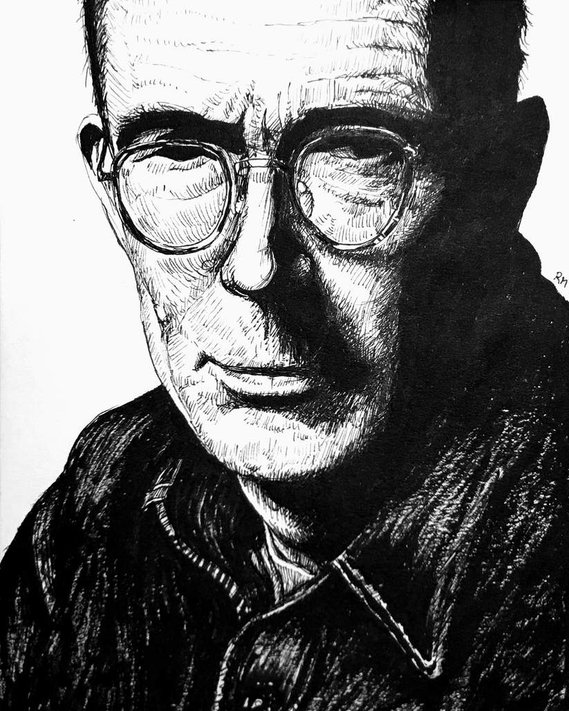 Inktober
In 2019 I took part in Inktober for the first time - and I liked it. It forces you to sketch every day and offers a prompt to get beyond the blank page.
For me it is also a way - yes, a bit forced, but still - to draw outside my vacations.
All great, but in 2020 I wanted to try something new: illustrate one of my favorite books from my youth (Neuromancer by William Gibson). My idea was to align the drawings as much as possible with the prompts and keep the illustrations, which cover the whole book, in the same order as the story.
That worked, well, kind of. My drawing skills limited my ability to keep the figures consistent, e.g. Ratz is on two sheets - and looks completely different on them. The short time frame (one day, well, basically a few hours a day) resulted in some really nice drawings, and some I would like to repeat, because the result is not so much what I had imagined before.
Interesting side effect: I never imagined spending so much time just looking for references before I actually start drawing them.
My wife's best friend surprised us with really beautiful drawings as vacation greetings. When we fulfilled a long-cherished wish and made a trip to the USA in 2018, I had the idea to do the same and send some watercolors as postcards to good friends.
I like the format: it is small, can get quite refined, but watercolor forces you to add only one or two layers. In combination with a Japanese watercolor brush (with fresh water, easy to refill) you can put all your equipment in a small bag. This has the advantage that you can paint when and where you want: sitting, standing, when you feel like it or when you have some time to kill.
Another influence to start painting on paper again was one of my uncles who never painted - until he retired. Then he suddenly started to paint many impressionistic pictures - I really love his stuff.
I have learned, that even when drawing "mechanically" from photo reference, I need my mind free from other obstacles. That is why I rarely draw outside vacations. Even this became a hobby only in the last few years.
It got more intense when we started having "studio vacations" as a family. This means we go to some place with nice weather, surroundings and enjoy good meals. But it does not necessarily have to be "the place to be" for everybody. It needs interesting things to draw – or a studio.
While writing this down, I notice it sounds a bit like we are enforcing our hobbies to our children – it isn't. Well, not entirely: if someone wants to spend their time swimming, reading or whatever he or she likes, it is ok. It even takes myself usually some days to get started.
Another interesting aspect is working pleinair: Really draw or paint outside with the motive right in front of you – is awesome. I clearly prefer this over using photos, unfortunately sometimes photos are the only way to do it.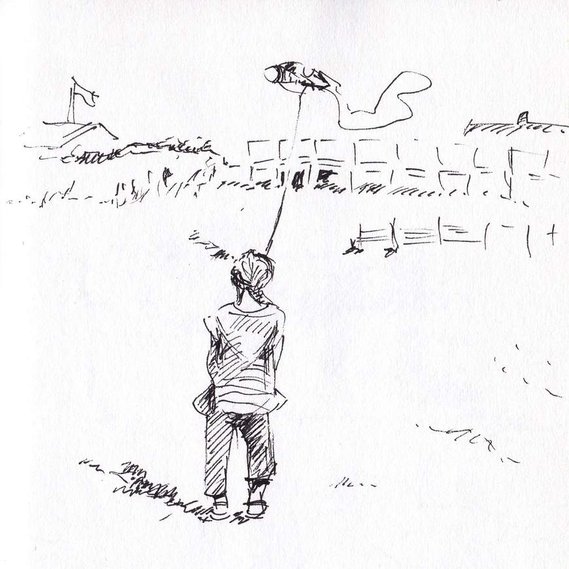 Still on my list: communicative drawing
Another thing I still strive for is "communicative" drawing: explaining facts to other people in short, precise and cartoon-like sketches and diagrams, as suggested by Dan Roam. This was what I missed most when I started working as an architect and designer. It was simply not taught to me during my studies, but is something I need almost every day when I work.